Western Red Cedar - Specialty Wood Products
Fast growing Western Red Cedar trees are grown in tree plantations for wood trim, decking, siding, saunas, shakes and expensive architectural millwork. Western Red Cedar is native to the United States and Canada, growing predominantly on the coastal shores of British Columbia, Washington and Oregon States. Western Red Cedar is also found in interior regions as well, growing along rivers and the shores of lakes. This Pacific Northwest tree can grow tall, reaching heights of over 300 feet in especially wet and fertile areas. As a tree plantation tree, it is an ideal tree species for lowlands that experience occasional flooding from spring runoff or high annual rainfall. Western Red Cedar is also called red cedar or giant cedar in some regions of the United States, particularly Oregon, where native peoples referred to the tree as the tree of life due to its medicinal properties.
Western Red Cedar Wood
Western Red Cedar wood is considered the most valuable of all softwoods because of its fine, straight grain, color, flexibility and strength in proportion to weight, however, the most important property of this wood is its high impermeability to liquids and its natural phenol preservatives, which make it ideally suited for exterior use in wetter climates. Although the wood lasts for years in a West Coast climate, it wears and ages prematurely in a humid climate, turning grey after just a few years.
This water impermeability has made cedar an ideal roofing material for homes of the Pacific Northwest for more than two hundred years. Cedar shakes are lightweight, strong, and water resistant, require no wood treatment, look beautiful and can last 30 years or more. These qualities also make Western Red Cedar ideal for cladding and siding, decks and trim.
Western Red Cedar Wood
Red Cedar wood also has natural insulating qualities as well offering approximately one "R" of insulation per inch which explains why native lodges where made from thick old growth cedar logs. The first log cabins where also fabricated from these insulating logs.
Western Red Cedar Distribution
Western Red Cedar as the name suggests is a prime commercial softwood tree species grown primarily in coastal regions of British Columbia, Washington Sate and Oregon.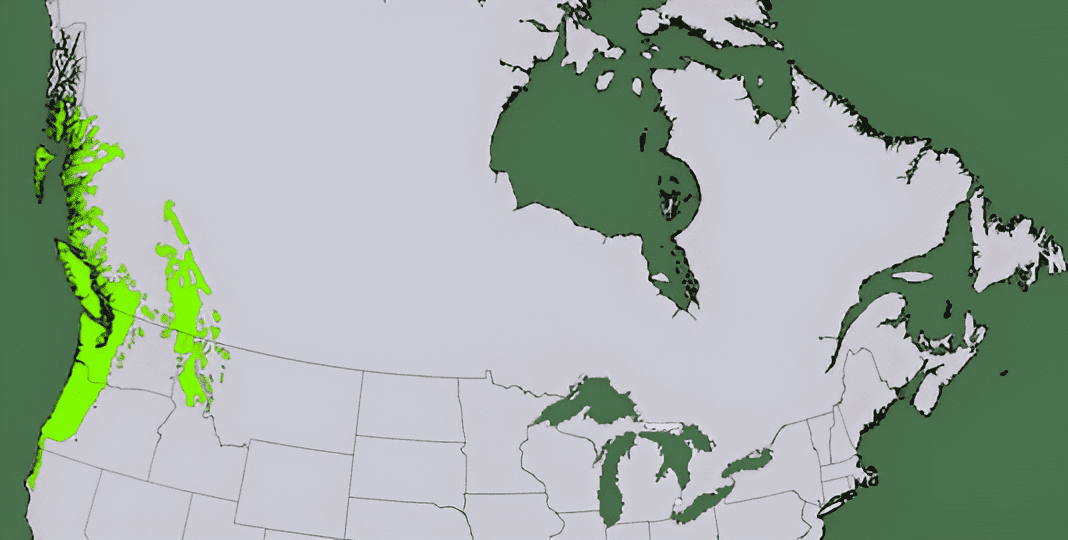 Western Red Cedar Tree Plantation
A cedar tree plantation is a perfect solution for wet, lowlands that are not suitable for conventional farming or animal grazing. The trees will flourish helping to control water levels and will grow fast from abundant water supplies. In most cases a pure stand tree plantation is not recommended, however in the case of a wetland, pure stands of cedar grow better without the intermingling of other tree species such as Douglas Fir.
Planting Pattern
A high-density planting pattern is recommended for pure stands of cedar. Roots of this tree are shallow and wide spreading offering little protection from high winds when growing in a porous soil. High-density plantings where trees are planted much closer together support one another protecting them from wind blow until roots systems become more established. High-density plantings also tend to grow trees taller and self-prune lower branches as they grow creating more valuable knot-free wood. After about 20 years when the roots are well established, every second tree can be harvested to thin the grove.
Calculate the number of trees per acre and spacing between Western Red Cedar trees
Fast Growing Western Red Cedar Trees
Creating a forest of tall, knot-free clear-grained cedar tree seedlings is advantageous for timber investors for very compelling reasons:
Western Red Cedar provides high end use for less valuable wetlands
Western Red Cedar controls excess water and provides flood control
Western Red Cedar improves land holdings and creates ongoing monetary value
Western Red Cedar creates a high value asset of veneer quality sawlogs
Western Red Cedar timber assets can be sold or leveraged and used as collateral
Western Red Cedar fast growing trees shortens time to harvest
Western Red Cedar Wood Products
Western Red Cedar roofing shakes
Western Red Cedar decking
Western Red Cedar wood trim
Western Red Cedar saunas
Western Red Cedar siding
Western Red Cedar architectural millwork
Inventory
100 Western Red Cedar Tree Seedlings
Western Red Cedar Average Height: 18 feet
Western Red Cedar Age: 8 years
Email For Western Red Cedar Pricing: talltreeseedlings@newleafmail.com

Western Red Cedar Tree Plantations

There are three ways to participate in western red cedar tree plantations; you can invest directly in our western red cedar tree plantation project in Oregon, hire us as a consultant to start your own western red cedar tree plantation or contract us to build you a western red cedar tree plantation in western North America or New Zealand.